Treat yourself with a memorable visit to the homeland of the Aptani Tribes, the pristine beautiful land known as Ziro or Apatani Plateau. Awarded as a World Heritage Site for its stunning natural beauty, Ziro valley is a surrounded by lush green paddy fields in the midst of the pine clad mountains. Located about 1500 meters above sea level, Ziro is the headquarter of Lower Subansiri District.
Surrounded by majestic Himalayan ranges and Patkai range of mountains, Ziro is a charming valley covered with dense forest of vivid flora and faunas. The single stem bamboo and blue colored pine are available here. Bamboo grooves is a worth visiting place to witness the unique bamboo forests. One can take a walk around the Pine trees for a mesmerizing journey to enjoy the beauty of pine forest in Nago Putu. Invigorating mountain breeze and beautiful Apatni peoples will also greet you.
Ziro the Home to Aptani tribe, if you love tribal life and culture you must visit some traditional villages of Aptani tribes like Hong and Bulla villages. Woman of Aptani tribes is famous for their piercings like nose plugs and the unique tattoos on adorning their bodies. You will enjoy taking photos Arunachal Pradesh tribes.
Apart from the fascinating natural landscape, Apatani plateau offers you some unique cultivation techniques which are worth seeing. In ziro plateau fishes are rear along with paddy cultivation. After transplanting of paddy from the nursery in wet rice cultivation field, the fish fingerlings are put in the channels in paddy field at knee-deep height and kept there for 2-3 months and then start harvesting of fish.
Rice fields in Ziro Valley
Traditional Aptani village in Ziro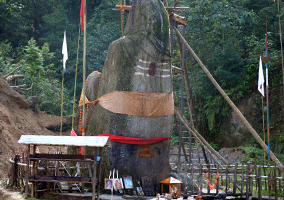 Shiva Lingam in Ziro valley
Ziro is also a fascinating stop for adventure lovers. It offers Hiking and Trekking in nearby hills. One can trek to Pepu Cumyu peak which is about 7200 feet, Shiva lingam and the dense forests of Taley valley Wild Life Sanctuary have some amazing trekking trails.

Beautiful handcrafted colorful handloom cloths are another representation of Ziro.

Plan a Trip to Ziro during Ziro Music Festival to enjoy the beauty of Ziro with lots of outdoor activities like music concerts, camping, cycling and so on.
Major tourist attractions in Ziro
Kile pakho
Midey
Ziro Putu
Dolo Mando
Hapoli
Tarin Fish Farm
Pine Grove
Taley valley Wild Life Sanctuary
Meghna Cave Temple
Shiva Lingam At Kardo Forest
Things to do in Ziro
Watch unique cultivation method at Tarin fish farm
Enjoy India's greatest outdoor music festival (ZFM) held in the month of September or October.
To experience the lifestyle of the tribes, take a guided tour in traditional Aptani villages.
Special Note
Indians require special inner line permits to visit Ziro while foreign tourists intending to visit Arunachal Pradesh require restricted area permit. We can help you to collect Inner line permit and organize Ziro tour. Click here to book a Ziro trip.
Planning your tailor-made holiday to Ziro
Call us at + 91 - 73 - 990 - 54196

SEND A QUERY
Ziro Travel Blog
If you are a music lover, you must have definitely heard about the Ziro Music Festival. This is conducted in the scenic valley of Ziro in Arunachal Pradesh every year. The first season of this music festival was conducted during 2012 and it is a regular feature of Arunachal Pradesh's cultural calendar every year.
The Tourism Department of Arunachal Pradesh has been organising "Tawang Festival" in the state every year, during the October/November, in order to expose the state's unique culture and traditions to the outside world. This festival has also helped to improve the tourism potential of the district of Ziro..
Buddhist Monasteries in Arunachal Pradesh
On a trip to the Northeast, the spiritual-minded person would find himself heading to Arunachal Pradesh. The state is in the extreme Northeastern part. Arunachal Pradesh shares closeness in terms of geography with Tibet, and Bhutan and hence, the cultural influence is..