kohima Travel Guide
A colourful land of impeccable culture and unprecedented traditions, this lesser known city is certainly an enticing destination to explore. The predominantly tribal city is blessed with high mountains, deep valleys and rich flora and fauna. Being inhabited by as many as 16-odd tribes, it is the land of rich cultural heritage of the Nagas. Kohima is the capital of Nagaland; the city is a beautiful mixture of all the hues of nature. The British developed Kohima as a watch post for the eastern region. The town has been witness to the bloody World War II battles between the Allies and Japan. The entrance gate is adorned with traditional Naga art and buffalo horns which is typical to all Naga villages.
It is one of the most charismatic destinations to see in the state. The blend of the ancient and the modern has painted this town in an interesting colour and Kohima has become an indelible landmark for the state. Kohima's leisurely pace of life attracts travellers who want to get away from the hurly burly of city life, the serene atmosphere makes you unwind and relax. The Kohima Village, locally known as the Barra Basti, showcases the Naga way of life. Kohima is a hilly town makes it a perfect place for adventurous activities like trekking, jungle camping and rock climbing. Read our Kohima travel guide toinstigate yourself with all Things to do and places to visit in Kohia city.
Shop in the famous
Naga Bazaar
which is known for sale of indigenous handicrafts items, like shawls, vests and other decorative items, flowers, bamboo items and jewelleries.
In Kohima you will find authentic Naga cuisine like
Ghalo (pork and bamboo)
and
bamboo baked with fish
, locals are generally non-vegetarian, you will find a variety of non-veg food in Kohima. Try the local rice beer called
Zouthou
.
Places to visit in kohima are:
Japfu Peak
Dzukou Valley
Shilloi Lake
State Museum
World War II Cemetery
Heritage Museum and Crafts Centre
Khonoma Village
Kisama Heritage Village
Kohima Zoo
Intanki Wildlife Sanctuary
Kohima Cathedral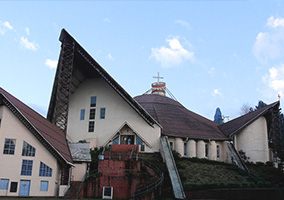 Kohima Cathedral
Japfu Peak
Kohima War Cemetery
Start planning your tailor-made holiday to kohima
Call us at + 91 - 73 - 990 - 54196

SEND A QUERY
kohima Travel Blog
Picture journey through India's only island district kohima
kohima, an enchanting paradise adorned with fresh green rice fields and small lakes (Beels) interspersed with floating water hyacinth...