Elephant Safari
Elephant safari is the best way to uncover the deep jungle inside Kaziranga National Park. Morning elephant safari is the prime option to view Rhinos and get closer to the wild animals. Elephant Safari starts from 5:30 AM to 7:30 AM. and lasts for 1 hrs to 1.5 hrs.
Jeep Safari
Travellers love Jeep safari ride in the wild jungle of Kaziranga. One can sight wild animals and migratory birds very closely in Jeep safari. Morning jeep safari timing starts from 7:00 AM to 12.30 AM. and afternoon jeep safari timing is 2:30 PM to 4:30 PM. We recommend visitors to book both elephant and Jeep safari 1 week prior to their arrival.
Kaziranga orchid park
Kaziranga orchid and biodiversity park is another prominent attraction located 5 km away from Kohora range of Kaziranga. It housed 600 different varieties of beautiful Orchids, 200 variety of Rice, 132 spices of Fruits and Vegetables. A beautiful tea garden surrounds one side of the park, a small pond which facilitates boating and a Rock Garden - all these make this park a perfect destination for all. You can also enjoy cultural performances, nature walk and traditional food here.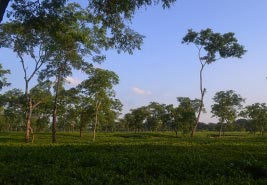 Tea garden tour
Kaziranga is surrounded by scenic lush green tea gardens. Sprawling tea garden covers both sides of NH37. Watching the process of tea making and enjoying the lush green tea valley is a memorable experience.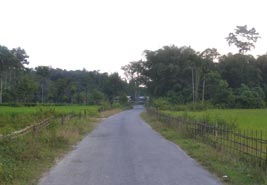 Tribal village visit
Scenic tribal villages of Assamese, Missing and Karbi tribes are another option to spend your time around Kaziranga. Indulge in a peaceful walk in the tribal village and watching their way of life and test local beer.
Boating in Kaziranga
Boating in Kaziranga is another less known option to unearth the park. One can enjoy a completely different experience in the boat ride. You can go for a boat tour inside Kaziranga National park from Dhanbari ghat.