If you want to spend some time in nature's lap, start heading towards Dibru Saikhowa wildlife century, the most scenic nature's treasure. Located at 12km away from Tinsukia town, near the borders of Upper Assam and Arunachal Pradesh, one can see the biodiversity hotspot named Dibru-Saikhowa National Park. Dibru-Saikhowa, also a biosphere reserve is surrounded by three of India's eastern-most rivers, the mighty Brahmaputra, the Lohit River in the north and Dibru River in the South. Encircled by the mighty Brahmaputra and Dibru River, the island and its bank has become an internationally acclaimed BIRDING area. The area is predominantly comprised of semi-wet evergreen forests, tropical moist deciduous forest, bamboos, canebrakes and grasslands, making it highly conducive to wildlife habitat. Out of the seven parts of the park, one part is the wetland and the rest are mainly grassland and dense forest.


Flora and Fauna of Dibru Saikhowa National Park
Dibru-Saikhowa National Park is mostly visited for its scenic forest-landscapes, and most importantly for the bright colored wild horses known as
Feral Horses
and
white-winged Wood Ducks
. Dibru-Saikhowa was declared as one of World's top 19 bio-diverse hotspots. Several endangered species of birds including over 350 species of avifauna both endangered and migratory, are the main attraction of the park. It is an interesting birding destination for rare specialized grassland and swamp forest birds such as the threatened Marsh Babbler, Jerdon's Babbler, Black-breasted Parrotbill, Swamp Prinia and Jerdon's Bushchat. Some of the other birds found here are Swamp Francolin, Cotton Pygmy-goose, Spot-billed Duck, Speckled Piculet, Drongo Cuckoo, Pale-capped Pigeon, Grey-headed Lapwing, Slenderbilled Vulture, Red-necked Falcon, Peregrine Falcon, Darter, Rosy Minivet, Spangled Drongo etc and migratory birds like Geyleg goose, Brahmini duck, Bar-headed goose, pelican, Black stork etc.
This park is a safe haven for many extremely rare and endangered species of wildlife, as well as various species of shrubs, herbs and rare medicinal plants. Some rare and endangered animals of this sanctuary are Hoolock gibbon, capped langur, slow loris, water buffalo, tiger, elephant, gangetic river dolphin etc.
One can also check out
Maguri beel
, a large wetland just on the border of the park and Koliapani grasslands.
Boat Safari at Dibru Saikhwa National Park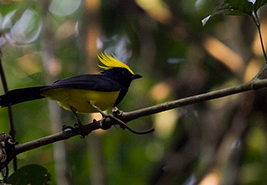 A trip to Dehing Patkai wildlife sanctuary
Take a tea tour in upper Assam and enjoy lush green tea gardens
Facts about Dibru Saikhowa National Park
Entry Point: GuijanGhat and Saikhowaghat, these small river port are the entry point for the park. The main jungle is surrounded by rivers, one needs to approach by boats or large houseboat at these ghats to enter the park.
Major Attractions: Sea Dolphin, Feral Horses, White-winged Wood Ducks and endangered species of birds.
Best Season: November to April is the best seasons to visit Dibru Saikhowa National Park, during this period one can enjoy migratory birds.
Opening Hours: Dibru Saikhowa national park opens all day. Entry after sunset and before sunrise is not permitted and night stay is strictly prohibited inside the park.
Reference : www.wikipedia.com