Meghalaya Tour Package
Guwahati - Shillong - Cherrapunji - Dawki - Mawlynnong- Guwahati
Starting @ Rs 13,983
Are you a person who does not wish to spend the upcoming holidays in the same old city or touring the same old tourist spots? The Northeastern state of Meghalaya is surely the right place for you. The fresh green inviting rolling farms, the misty cold mornings, the fusion of authentic local and Western music, the abundance of everlasting waterfalls, and the green hill-tops with wooden cottages, are surely set to transport you from reality to probably a Ruskin Bond story. Picture perfect roads, with dense green moss-covered trees, gurgling rapids and streaming waterfalls, falling without the slightest hesitation is all right here in Jowai, Meghalaya.

Sounds like magic? Sure, it does and if you wish to go exploring on your own, the wide assortment of virtually unexplored caves and forests in and around Jowai is surely going to make your heart leap out in joy.

Jowai or Jwai as it is locally called is a picturesque town that you shall consider visiting this year. It is situated on a plateau, is one such place. The developing and very important town of Jowai is located at 1380 m above sea level and it is the district headquarters of West Jaintia Hills of Meghalaya.


It is just 50 kilometres away from the Indo-Bangladesh border and around 60 kilometres from Shillong. If you are in mood to drive down from Guwahati then reaching Jowai through National Highway 44 is suitable as it has ease of connectivity with all the other cities and states in the North East of India. Steeped in cultural heritage of Meghalaya and the wide amalgamation of various tribes in Jowai, is this small town.
Jowai has the river Myntdu gurgling by it and has East Khasi Hills district guarding it from the West and Bangladesh in the South. Jowai is also a home to the Pnar tribe. It is here at the Myntdu river, the
Syntu Ksiar memorial
is built honouring the legendary freedom fighter, Kiang Nangbah.
The town has become a hot spot for tourists, honeymoon couples, and photographers and has all the basic amenities to offer them. Jowai is blessed with plenty of natural spots like waterfalls, parks and greenery all round. It has Nartiang Monoliths, Krang Suri Falls, Ialong Park, Iooksi (Kupli) Park and Umlawn caves that are simply gorgeous all year round. Visit Jowai and make sure that you do not miss out on any of the attractions of Jowai.
One of the main attractions in Jowai is the
Nartiang Monoliths.
The village of Nartiang houses the Jaintia king's Palace. However, the highlight of the village is a spectacular collection of Nartiang Monoliths. These monoliths or menhirs were erected between 1500 A.D. and 1835 A.D. The tallest stone menhir was erected by the Lieutenant of Jaintia King, U Mar Phalyngki to commemorate his victory.
Major tourist attractions in Jowai are :
o Nartiang Monoliths
o Thadlaskein Lake
o Ialong Park
o Iooksi (Kupli) Park
o Krang Suri Falls
o Tyrshi Falls
o Muwi Falls
o Syndai Falls
o U Lum Sunaraja
o Umlawan Cave
o Syndai caves
Krang Suri Falls, major attraction on Jowai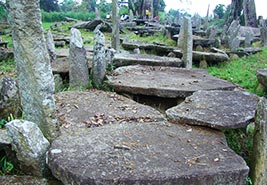 Nartiang Monoliths
Behdienklam Festival
Major Festivals of Jowai
The colorful three-day festival of Behdienklam is one of the most significant festivals celebrated by the Pnar tribe that is celebrated by young and old. It is generally celebrated with great grandeur in the mid of July. Music, dance and rituals make this festival a grand affair. Datlawakor, a local version of football is played in the evening on the days of festival. If you are by any chance here during these days this year, then do not forget to capture these moments on your camera. What best souvenirs and memories can you take back home?

Chad Sukra is another important festival celebrated in Jowai in the 1st week of April, by the people following the Niamtre faith. Only after the festival's celebration, the farmers sow the seeds in their lands. Laho Dance is an enjoyable dance festival held annually, where men and women adorn themselves and dance to the music played using the traditional musical instruments. Book a holiday to Jowai during this festival time and get to enjoy the local flavours of Jowai and Meghalaya.
Start planning your tailor-made holiday to Dawki, Meghalaya
Call us at + 91 - 73 - 990 - 54196

SEND A QUERY