Cherrapunji is a misty valley with sparkling rivers and swirling clouds and is a perfect summer getaway. Located at a distance of 50 km from Shillong, Cherrapunji, the wettest place on the planet earth. It is a lush green valley covered with enchanting hills, majestic waterfalls, caves and canyons, painted with mist all around. Numerous streams could be seen everywhere, all flowing in an uncontrollable velocity and creating a deafening thunderous sound. Natures marvel the Double-decker living root bridge is the elite attraction here. Tracking from the entry point to the leaving root bridge is an exhilarating experience.

Cherrapunji is a heaven for adventure lovers. Two natural cave namely "Mawsmai Cave" and "Arwah Cave" is located here. Bring out your prehistoric instincts as you navigate a maze of caves. Explore these caves and feel at home in enclosures that were actual homes to ancient human beings. In Maswami cave one can witness numerous stalactites and stalagmites formed naturally by water flowing from this cave since ages. It takes around 20 minutes to walk through the cave. Fossils of marine animals and seashells can be found inside Arwah Cave.

Staying at Polo Orchid Resort and walked to Mawsmai Cave is a wonderful experience. Which take around 30 minutes. It is also a great centre to explore the Khasi culture and is home to an ancient Presbyterian Church and a Ramakrishna Mission.

After a round of cave exploration, it is time to visit the waterfalls of Cherrapunjee. Some of the thrilling waterfalls in Northeast India is located in Cherrapunji. Some of them are 1,000 ft Nohsngithiang Falls, The Dain Thlen falls and Nohkalikai Falls. Cherrapunji is also known for its limestone caves and orange honey. enjoy the amazing view of kynrem falls which is one among the few falls in Meghalaya that remains in full flush mode throughout the year.
Places to visit in Cherrapunji are :
1. Khoh Ramhah
2. Mawsmai Cave
3. Nohsngithiang Waterfalls
4. Nohkalikai Waterfalls
5. Dain Thlen falls
6. 7 Sisters falls
7. kynrem falls
8. Double Decker living root bridge
9. Garden of Caves
10. Sa-I-Mika Park resort
11. Eco Park
12. Thangkharang Park
13. Mawkdok Dympep Valley
Nohkalikai Waterfalls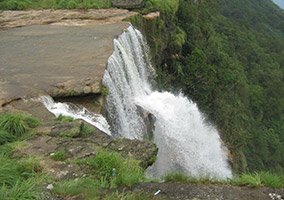 Dain Thlen falls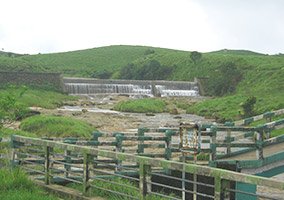 Eco Park
Start planning your tailor-made holiday to Cherrapunji
Call us at + 91 - 73 - 990 - 54196

SEND A QUERY