Come and explore the fascinating aspects of Manipur Tourism. Enjoy natural beauty, cascading waterfalls and beautiful landscapes with your family or friends. Tamenglong is the place where you can find a range of orchids. Other popular attractions include Thalon Caves, valleys, hills, lakes and waterfalls. Enjoy the charm of blue hills, green valleys, arresting rivers and dense forests. This small but beautiful town of Manipur is dominated by the Zeliangrong community. The region is on a hilltop. The major rivers are Barak, Irang, Makhru etc. This place has beautiful flora and fauna. It has some of the best evergreen forests. It has some of the most exotic varieties of flowers and wildlife some of which are listed as endangered species.
Barak Waterfall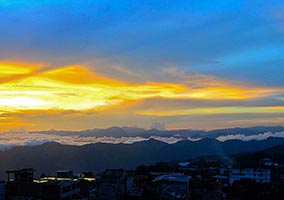 Burning Meadows
Tharon Cave
Some of the interesting places to visit in Tamenglong are:
• Barak Waterfall
• Tharon Cave
• Burning meadows
• Zeilad Lake
• Mt Kisha
• Kadai Ching
Along the Barak River tourist can see the beautiful
Barak waterfall
. There are actually seven waterfalls close to each other and the place looks stunning. One can enjoy river rafting in this area. Tharon Cave which is located at a distance of 27 kms from the district has the map of the entire cave on a stone near the entrance. Around 12 caves are located underneath.
If you want to see fishes, pythons, and water birds then visit the legendary
Zeilad lake
at Makoi. Tourist can enjoy boating in this area.
The Burning (Npiulong) meadow
is located in the Taimei Town. This is the place where you will find sparkling brooks, chirping birds and lovely animals. The beautiful lilies and orchids all over the place make the meadows all the more enchanting. If you like adventure then visit
Kisha Khou
is a must. Here one can do trekking on the cliff of Kisha Khou. You can also enjoy the various festivals of this region which includes
Gan-Ngai
which signifies the completion of farming activities, Chakkan-Ngai etc which will give you an insight into the culture and traditions of this place.
Tamenglong is a tiny but spectacular place which you must visit to understand the beauty and culture of the lovely state of Manipur. Visit Tamenglong and come closer to nature.
The best time to visit Tamenglong is the winters and the arrival of summers. The favourable months are between September to April. The climate remains pleasing during these months offering tourists the best holiday experience.
Book a Tamenglong Trip