Majuli Island Tourism Guide
Majuli the natural & cultural hub of Assam is a most sought after tourist destinations in India. It is honoured as one of the largest river islands in the world. With river Subansiri on the north bank and river Brahmaputra covering most of the areas, Majuli attracts plenty of birds both local & migratory. Total area of the island is about 421 sq.km., but it is steadily decreasing due to strong erosion of the river Brahmaputra.

The island is mostly rural and has over 159 villages with a rich mix of different tribes and communities. Majuli is a meeting point of different plain tribes possessing colourful and resourceful identities. The main tribes residing in Majuli are the Misings, Deoris and Sonowal Kacharis. There are islands within islands in Majuli and the landmass keeps changing its shape after every summer.
Majuli is also considered as the cultural capital and the cradle of Assamese civilisation for the past five hundred years, the Satras set up preserve antiques weapons, utensils, jewellery and other items of cultural significance. The magical landscape of Majuli is well known and acclaimed for its rich in art and culture. It is the home of the world-famous mask of Majuli, but the art is at present dying due to a lack of artists, and interest and proper preservation. There are several Satras in Majuli of which the Satras of Kamalabari, Auniati & Garmur are worth mentioning. These Satras are propagating the religious ideology of great Assamese.
Others among the main attractions are the Migratory birds, different festival including Bihu and Ali-Ai-Ligang festival in Feb-March, Paal Naam festival in the month of November, Pottery making, handloom clothes etc. Majuli unfolds a variety of interesting traditional handicrafts, pottery, ethnic culture and dance forms, water sports, village life of a real tribal type and lots more. Cycling trip in Majuli is the best way to explore the river island.

Rasotsava, a prime festival of Assam, is celebrated with great enthusiasm and passion here which is the depiction of Lord Krishna's life through dancing and playing.
If your life is getting monotonous and you are looking out for a peaceful escape then Majuli is just the place for you. Vacation amongst its serene environment will bring out the happiness and peace you are searching for.
Top tourist places in Majuli island are
Satras of Majuli
Mask makers satra
Watch morning prayer and dance drama(bhaona) performance.
Bamboo cottage in Majuli
Tribal villages
Sunset at Majuli
Boating in the small lakes(beels) inside Majuli
Bicycle tour amidst lush green rice fields
Visit the Jadav Payeng's forest.

Things to do in Majuli
Visit the neo vaishnavite monasteries(Satras) which preserve and spread unique culture and heritage of Assam and enlighten individuals through spiritual and religious practices.
Watch the making of "masks of Majuli", these masks of various characters from the mythologies are used in stage performances called bhaona.
Visit the museum of Ahom royal artefacts at Auniati satra.
Enjoy the unique cultural and heritage at Assam during Ras Mahotsav Festival, in celebration of the birth, life and feats of Krishna held in the mid of November every year.
Bird watching at Chakoli Beel Majuli.
River cruise at the Brahmaputra river and enjoying sunset on the river beach.
October to April is the best period to visit Majuli. During these months, the internal road communication of Majuli is at its best.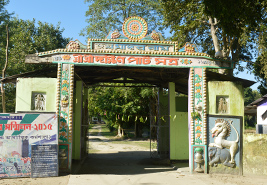 Dakhinpat Satra
Dance performance by Monks at Satra
Sunrise at Majuli island
Start planning your tailor-made holiday to Majuli
Call us at + 91 - 73 - 990 - 54196

SEND A QUERY
Majuli Travel Blog
Picture journey through India's only island district Majuli
Majuli, an enchanting paradise adorned with fresh green rice fields and small lakes (Beels) interspersed with floating water hyacinth...