Famous Satras of Majuli island
Satras are most significant part of Neo Vaishnavism culture. These are both temple and culture centre for Neo vaishnavite disciple. Most of the Assamese people are followers of Neo Vaishnavism. Saint Srimanata Sankar Deva established 64 satras in Majuli island to spread the culture and education in ancient time. Due to erosion in Majuli island, only 31 satras left. Each satras has its own cultural significance and try to preserve unique artistic attribute in music, literature, dance, drama etc. Read to know more about Satras in Majuli island.
Samuguri satra: Majuli has a legacy of its own when it comes to the unique mask-making tradition which was started in the 16th century by neo vaishnavite Saint Sankardev. The tradition of mask-making is a hereditary skill passed down from father to son or teacher to students in the Sattras. In Samuguri satra the mask makers practise the dying art of mask making. Read more about Mask Making art of Majuli here.
Garmur Satra: It is an interesting and holy place to visit in Majuli. It was established in 1656 A.D. by Jayarama Deva. Here one can see ancient artefacts and articles, ancient and unique weapons (the most prominent among them is Bortop) preserved in a small museum.
Auniati Satra: It is another prominent Satra in Majuli established in 1653 AD by Ahom king Sultanla, formally known as Jayaddhaja Singha. Where devotees perform various form of prayers, palnaam, dance and bhaona(religious theatre based on the story of Ramayana and Maha bharata). In every year a big palnaam festival held in the 1st week of November in this satra, devotees from various places come here in join this event.
Kamalabari satra: It is an oldest and is one of the most visited cultural centres of Majuli having a huge complex harbour hundreds of monks of all ages from 8 to 80 years. This religious site to houses significant articles related to art, culture, literature and classical studies. It also has an affordable guest house for tourists. It is an interesting place to witness a Naam (prayer session) perform by little monks in evening and morning.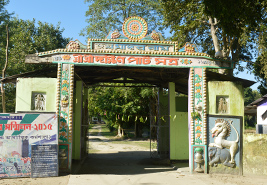 Dakhinpat Satra: It is one of the famous socio-religious institutions in Majuli where dances and music contributed by Shri Sankardeva such as the Borgeet, Matiakhara, Jumora, Chali, Noyua, Nande Vringee, Sutradhar, Ozapali, Apsara, Satria Krishna and Dasavater etc. are preserved and practised in deep faith. It is also a storehouse of antiques of cultural importance and an advanced centre for the performing arts. Established by Sri Vamshigopal in 1584, this ancient educational centre is visited by thousands of devotees throughout the year. The gateway of the Satra is ornamental and many religious motifs and images of flowers and animals are engraved on it.
Read more Satras of Majuli Islad at http://majulilandscape.gov.in/sattras.php
Start planning your tailor-made holiday to Majuli
Call us at + 91 - 73 - 990 - 54196

SEND A QUERY