The Dehing Patkai Wildlife Sanctuary, which is also known as the Jeypore Rainforest is a part of Dehing-Patkai Elephant Reserve and located in Dibrugarh and Tinsukia districts of Assam, bordering the Arunachal Pradesh. Dehing Patkai is a deciduous rainforest interspersed with semi-evergreen and lush green flora, proud to be the only patch of virgin rainforest in Assam. It is a tropical Wet Evergreen Forests covering a total 800 sq. Km area of three combined rainforests namely Joypure, Upper Dehing and Dirak. Dehing is the name of the river that flows through this forest and Patkai is the hill at the foot of which the sanctuary lies. The Dehing-Patkai was declared as a Wildlife Sanctuary in 2004.
Vivid Birds and mammals in Dehing Patkai Wildlife Sanctuary
The forest checklist has over 40 species of mammals and nearly 38 family groups of western Hoolock Gibbon. Dehing-Patkai sanctuary is a haven for the Wildcats. Wildcat species found here include Tiger, Leopard, Clouded Leopard, Leopard Cat, Golden Cat, Jungle Cat and Marbled Cat. It is the only forest in the world which has seven different species of wild cat.
Apart from these the forest also houses primates. Out of fifteen species of non-human primates found in India, seven inhabit in this rainforest. These include Rhesus macaque, Assamese macaque, Slow loris, Capped langur, Pigtailed macaque, Stump-tailed macaque and Hoolock Gibbon. It is home to several other mammals like Chinese pangolin, Flying fox, Slow loris, Stump-tailed macaque, Assamese macaque, Rhesus macaque, Capped langur, Hoolock Gibbon, Himalayan black bear, Hog badger, Jungle cat, Fishing cat, Clouded leopard, Wild pig, Sambar, Barking deer, Gaur, Serow, Malayan giant squirrels, Porcupine, Pig-tailed macaque etc.
Birdwatchers Paradise Dehing Patkai Sanctuary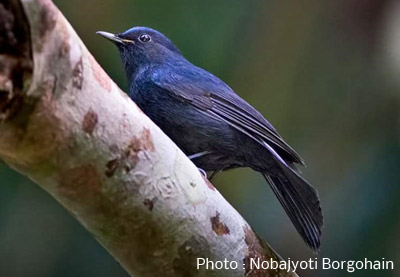 White-Tailed Robin
Butterfly at Dehing Patkai Sanctuary
Blue Eared Kingfisher
If you love bird watching, then Dehing Patkai Sanctuary is a virtual heaven for you. It provides shelter to different species of birds as well as various species of butterflies like Lesser Adjutant Stork, White Winged Wood Duck, White-backed Vulture, Slender-billed Vulture, White-cheeked Hill Partridge, Khaleej Pheasant, Gray Peacock-Pheasant, Rufus necked Hornbill, Wreathed Hornbill, Great Pied Hornbill, Beautiful Nuthatch, Black-browed Leaf Warbler, Green Imperial Pigeon, Purple wood or Pale-capped Pigeon etc. The diverse fauna and the occurrence of the longest monsoon have made this part of North East India a heaven for 50% of the total butterfly species of India. The forest also houses reptiles like Rock python, King cobra, Asian leaf turtle, Monitor Lizard and others.
Dehing Patkai plays host to many
exotic species of orchids
such as ferms, epiphytes, wild banana, orchids, arums, climbers and lianas. Some of the important tree species found in this forest area are Hollang, Mekai, Dhuna, Udiyam, Nahar, Samkothal, Bheer, Hollock, Elephant apple and different species of Dimoru etc.
The
best time
to visit Dehing-Patkai rainforest is the time of
Dehing Patkai festival
celebration. Which held in the month of February. This festival attracts tourists from all over the world. It is not only a festival of wildlife and rainforests, it is also a celebration of tribal culture and adventure sports.
Facts about Dehing Patkai Wildlife Sanctuary
Famous for: Rare species of wild cats and different species of butterflies.
Type: Tropical evergreen forest.
Best Season: September to March.
Opening Hours: Dehing Patkai national park opens all day. Entry after sunset and before sunrise is not permitted and night stay is strictly prohibited inside the park.
Related Link: Wikipedia