Ziro is a pristine location endowed with both natural beauty and historical importance. It attracts thousands of visitors every year. There are several tourist attractions in Ziro. Following is a list of most visited places in Ziro.
KILE PAKHO:
Located at a distance of 7 km. from old Ziro, It is a scenic place endowed with green vista. it offers stunning views of Ziro plateau and snow clad mountain ranges of Himalayas.
MIDEY:
Midey is a tranquil place famous for the biggest and tallest Blue pine tree (Pinus wallichina) in the Apatani valley which is about 7metre GBH ( girth at breast height). Walking through this tall tree is very pleasant and it is surrounded by a bamboo groove beneath the paddy fields.
ZIRO PUTU:
Located at the top of a Hillock in old ziro, ZIRO PUTU is a mesmerizing and calm place filled with the enchanting wind breeze blowing at a moderate speed. The spot is enriched with the breathtaking view of ziro plateau amidst colorful paddy field, filled colored with all shades of green and yellow. The first administrative centre was set up after India's independence and old ARMY cantonment is located here.
DOLO & MANDO:
Situated in the top of a hillock, which is famous for the legendary love story between the couple "DOLO & MANDO". From the top of the hillock, one can witness the wide panoramic view of Hapoli town, Ziro, aerodrome, rice farms and the mountains around Ziro Valley.
HAPOLI:
Hapoli (New Ziro), about 7km south of Ziro, has basic urban infrastructure and road transport. A scenic beautiful place served as the headquarter of Lower Subansiri District Administration. It is a beautiful town surrounded by lush green rice fields behind the majestic Pataki hills. Hapoli has derived its name from "Hao-Polyang". In the local language, "hao" means high or above and "polyang" means plain or plateau.
TARIN FISH FIRM:
Aptani people practice traditional breeding and fishing practices. Fishes are raised here and sold to farmers, who later place them in their terraced rice farms for PADDY CUM FISH CULTIVATION. This place is must visit to witness the Aptani Fish cultivation method. It is located at a distance of about 3.5 km from Hapoli Town, The fingerlings are sold during paddy cultivation season.
TALEY VALlEY WILDLIFE SANCTUARY:
Covering an area of 337 sq. km. Taley wildlife sanctuary is a home to a large number of flora and fauna ranging from sub-tropical to alpine forests which is one of the largest wildlife centuries in India Talley plateau is covered with thick dense forest of silver fir trees and pine trees, varieties of rhododendron, orchids, ferns and varieties of bamboo. Pleioblastus Simone is a bamboo species that is found only in Talley Valley.

The trekking trail goes as Hong village - Pange - Moko - Talley Valley.
which is nearly 32 KM north east of ZIRO.
MEGHNA CAVE TEMPLE:
Meghna Cave Temple is an ancient cave temple around 5000 years and it was rediscovered in the year 1962. Located at an altitude of 300 feet, the temple offers stunning views of the surrounding area. Majestic mountains, dense forests presenting lush greenery to your eyes and the beautiful river flowing below give you the most wonderful experience. You will be at a loss for words to describe the immense beauty of the place. Set your camera in motion so that you will be able to relive the memories on your return.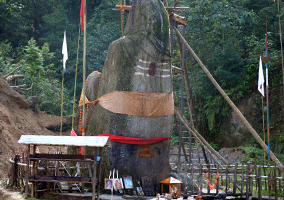 SHIVA LINGAM AT KARDO FOREST :
Located at a distance of 4 Km away from Hapoli town, It is a giant stone 25ft. and 22 ft width curved in the shape of big Shiva Linga. Million of devotees offer their prayers here. It was an ethereal and spiritual experience to trek up the hill and view the Shiva Linga. A fable is also associated with this temple. People believed that one can see images of Goddess Parvati and Lord Ganesha with tree trunk turning leftward.
Start planning your tailor-made holiday to Ziro
Call us at + 91 73 990 54196

SEND A QUERY