Satras of Majuli
Majuli is a splendid river island rich in culture and heritage. It is the pioneer of Sankari culture in Assam. Starting from prayers, paal naam, dance drama(bhaona) and borgeet, the monks(bhakats) preserves and teaches all form of dance to dance drama, devotayional prayers, mask making art etc. The best living satras in Majuli are Kamalabari, Dakhinpat, Auniati, Garmur and Samaguri etc. Read more about Satras in Majuli.
Bird watching in Majuli
Majuli is another home of large no of migratory as well as local birds in Northeast India. Some of the best location to spot birds in Majuli are as follows:
Chakoli beel: Located at a distance of 1.5 km from Kamalbari Satara it is a paradise for bird watchers. In the month of November to March flocks of migratory and residential bird like Asian open bill, lesser adjutant stork, black stork and white-necked stork, greylag goose, pintail, northern shoveler, ferruginous pochard, white eye, gulls, eagles, falcons, grey-headed lapwings, wagtails, plovers, sand-pipers, spot-billed etc. seen here.

Rambolia: Adjacent to Dakhinpat Sattra it is a beautiful forest housing various birds and other animals such as jungle cats, civets, common otters and jackals. Rambolia is linked to Dubori Toli beel, Magoor Mari and Sorbilla. Magoor Mari beel and Rambolia are located on the bank of mighty river Brahmaputra where thousands of birds congregate during winter. Bar-headed greylags and Ruddy shelduck, northern lapwings etc. are preeminent migratory birds seen here.
Sunset and sunrise in Majuli:
Majuli is a scenic place surrounded by lush green paddy fields and numerous small lakes and ponds. Watching sunrise and sunset in Majuli is a mesmerising experience. If you want to experience a tranquil holiday spent amidst nature away from busy city life, Majuli is a perfect destination for you.  A perfect way to explore Majuli island is to stroll around the villages on foot.
Village life and culture:
Another attraction in Majuli island is a rich mix of different tribes and communities. You can visit tribal villages and experience their culture and tradition firsthand. Majuli has an age-old tradition of the unique style of pottery making without using potter's wheel. Some villages also weave
 gamochas
 and other clothes at their home.
Bamboo cottage in Majuli:
Another worth mentioning experience in Majuli is staying in a Bamboo cottage(Sang ghar). There is various traditional homestay option available in Majuli where you can stay in Bamboo cottages and enjoy traditional food and rice bear known as Apong. Click here to know more about best places to stay in Majuli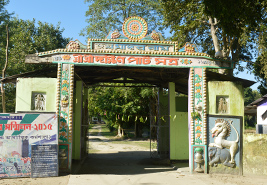 Dakhinpat Satra
Dance performance by Monks at Satra
Sunrise at Majuli island
Start planning your tailor-made holiday to Majuli
Call us at + 91 - 73 - 990 - 54196

SEND A QUERY