Tawang is a pristine location endowed with both natural beauty and historical importance. It attracts thousand of visitors every year. There are several tourist attractions in Tawang. Following is a list of most visited places in Tawang.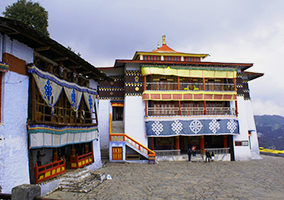 Tawang Monastery
It is a magnificent colorful 400 years old Mahayana Sect Buddhist Monastery situated amidst charming landscape of Tawang valley, it is acclaimed as the largest monastery in India and the second largest monastery in Asia. It was established by Mera Lama Lodre Gyasto during the 17th century. It is a prominent centre of Buddhist culture. It houses a large collection of manuscripts, books and other artefacts. The library of Tawang monestry is filled with the rare hand-written and block-painted thankas or manuscripts of revered books like Tangun, Kangyur and Sungbhum.
Taktsang Gompa(Tiger nest monastery)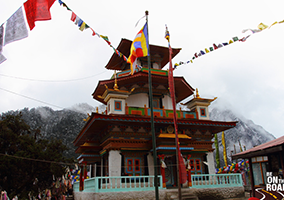 Located at a distance of 45 kms from Tawang Township, Taktsang Gompa is a specular beautiful gompa. It is believed that Guru Padmasambhava's (8th Indian Buddhist master) visit this gompa in 8th century AD. It is located in a picture-book location surrounded by coniferous forest and lofty mountains, situated on the ridge of a hill. It is also known as Tiger's nest monastery.
Sela Pass
The Sela Pass is the high-altitude motorable pass lies on the way to Tawang. Sela Pass is situated at a distance of 78 km from Tawang town and connects Tawang Town to Tezpur. The snow covered Sela pass offered excellent view all round the year. Alluring Sela Lake is also located close to the Sela Pass. Grazing of yaks around the lake and numerous small rivers flow out of the lake enhance the beauty to this place.
Jaswant garh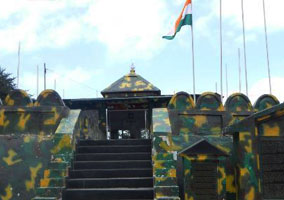 Jaswant garh is the memorial of brave India solder Jaswant Singh Rawat of the Indian army Located 21 kms from Sela Pass towards the Tawang,. He fought a lone battle against the invading Chinese troop during Indo-China war in 1962. He stood his position for 3 days at an altitude of 10000 ft in Seela pass without giving up until his last breath. Singh was captured and hanged by Chinese invaders at the same place where the memorial now stands.
Tawang War Memorial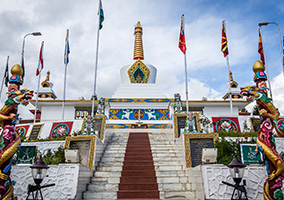 Located in a beautiful hillock overlooking picturesque snow-capped peaks just before reaching Town city, Tawang Memorial is a worth visiting place to pay homage to the India warrior who lost their lives in 1962 Sino-Indian war. It has names of 2420 dead soldiers etched in gold on 32 black granite plaques. It is a 40-foot high War Memorial built by India Army like a giant stupa.
Shonga-tser Lake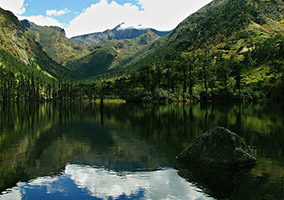 Shonga-tser Lake is poplar as Madhuri Lake located in a calm environment surround by mesmerizing landscape of snow-capped mountains and trees. It is formed by result of an earthquake in 1971. A beautiful walkway has been laid for the visiting tourists to explore the beauty of the nearby hills and enjoy the panoramic view of the Shonga-tser Lake.
Pankang Teng Tso Lake( PTso Lake)
Located at a distance of 17 km from Tawang, it is a tranquil lake of calm water, surrounded by radiant rhododendron flowers and variety of colourful birds painted its feathers in various hues of color. The lake is well maintained by the Indian Army. The lake remains frozen in winter, and offers a ideal spot for skiing.
Bumla Pass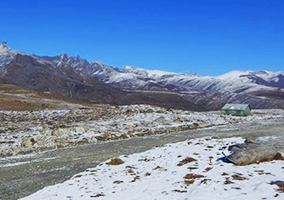 Situated at distance of 37 km away from Tawang, located in the Indo-China border at a 16,500 ft above sea level. One can visit China border accompanying with an India army official here. This place is controlled by India army, they provide tourist with warm hospitality. Tibet is also visible from the one side of the pass. Travelling on adventurous bumpy but scenic road to Bumla pass is a thrilling experience. Travel permits from Tawang Administration is required to visit this place. The ideal time to visit the place is from May to October.
BTK (Bap Teng Kang) Waterfalls
Bap Teng Kang waterfall is situated in a picturesque paradise of lush green vegetation in Yumkhang. Falling from a height of over 100ft it offers a spellbound view. This waterfall is located, 85 km on route from Tawang towards Zemithang.
Nuranang Waterfalls

Another waterfall that attracts visitors to Tawang is Nuranang Waterfalls, formally known as Jang Falls. It is a spectacular 100 meter-high waterfalls located just 40 km from the Tawang township in the Tawang Sela main highway. It Originates from northern slopes of the Sela Pass and forms Nuranang River and then fall in to the Tawang river.
Urgelling Gompa
Located at a distance of 5 Km from Tawang town, It is the birth place of VI Dalai Lama, Gyalwa Tsangyang Gyatso (1683-1706). This monastery was built by Lama Urgen Zangpo in 14th century.
Khinmey Gompa
Located at a distance of 5 Km from the Tawang town it is the belongs to the Nyingmapa school of Tibetan Buddhism founded by his Eminence 14th Thektse Rinpoche. It is a stunning beautiful monastery dominates by the 50 feet high statue of Guru Padmasambava (8th century Indian master) seating on a lotus. Various forms of Tibetan art can be seen here.
Regyaling Gompa
Regyaling Gompa was constructed by the former Rigya Rinpoche, is located at a distance of 1 km from Tawang Town. This Gompa is very unique, as its present Rimpoche is living in the same Gompa where he had died in his previous incarnation. Meeting him first hand, talking about the concept of rebirth was a totally different experience all together.
Gyangong Ani Gompa (Buddhist Nunnery)
It is a nunnery located amidst beautiful hills on the top of a mound, at a distance of around 5 km in the north of Tawang town. Trek to this place is a memorable experience. It harbored around 50 Buddhist nuns of different ages from very young to aged ones. It was found by Mera Lam Lodre Gyamtso.
Gorsam Chorten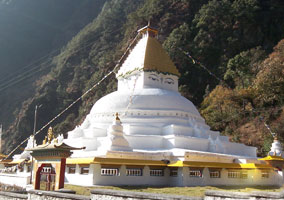 Located on the bank of Namjang Chu at a distance of 90 km from Tawang, Gorsam Chorten is one of biggest stoopa with a height of 100ft. It is a replica of the 12th century Boudhnath Stupa in Nepal. Local legend believed that it is founded by a Monpa monk Lama Pradhar in early 18th century.
Gorichen Peak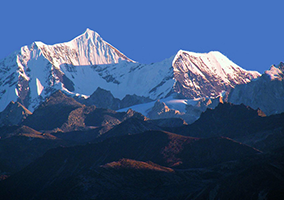 Loacated at the Indo - China border between Tawang and West Kameng districts, Gorichen Peak is the highest peak (22,500 feet) of Arunachal Pradesh. Located at a distance of 164 km. from Tawang, this peak is formally known as Sa-Nga Phu, which means the Kingdom of Deity. According to Monpa tribe, this peak is considered to be one of the sacred peaks protecting them from all the evils.
This is the one of the ideal bases for trekking and mountaineering in the entire region. April to October is considered to be best months to explore Gorichen Peak.
Tawang Craft Centre
It is a must visit place for art and craft lovers and shopaholics. It is a great place to buy various handicrafts made by local tribes. Authentic Tibetan crafts including Tankhas, woolen wears, wood work, colourful carpets and jewellery pieces are available here.
Start planning your tailor-made holiday to Tawang
Call us at + 91 73 990 54196

SEND A QUERY